Why wasn't I offered Federal Work-Study?
First, please be aware you do not need to have been offered FWS to work on campus. There are great opportunities that are open to all students on our General Job Board​​.
The funds for this federal program are left to the discretion of the institution to provide and utilize. Because FWS is a form of need-based aid, why a specific student is or is not offered FWS will be unique in each case. This funding source is very limited, so priority is given to:
Continously enrolled undergraduate students who earned work-study at Ohio State the year prior.

New students who have satisfied certain eligibility criteria during initial offering, which typically occurs at the end of March.
Further reasons students typically are not offered FWS:

Exceed the Expected Family Contribution​ (EFC) component (varies per year).*

Do not have enough Financial Need 

to encompass the offer or the Financial Need is satisfied completely by scholarships and grants.




Did not indicate interest in the program on the FAFSA at the time the student's aid was packaged.*




Missed financial aid priority dates due to late/delayed admission to Ohio State or late verfication/appeal completion.  Funding availability will determine whether we can offer FWS to these students.
*This eligibility component is not a factor for continously enrolled students who used work-study funds the previous year.

If you meet the criteria but were not offered FWS, you may contact us at sfa-jobs@osu.edu to review your account for FWS eligibility.

What do I need to do to receive my offer?

If you have been offered FWS, please be sure to read the Federal Work-Study Student Employee Manua​l​​ ​for more information on the terms and conditions of your offer. If you are unsure of your status, contact us at sfa-jobs@osu.edu.
Accept your work-study offer from your Financial Aid Summary. Within 24-48 hours after accepting, you can access the Federal Work-Study Job Board.




Select a job from the Fed

eral Work-Study Job Board, interview for the position. Note: Once you have identified a job in which you are interested, you may contact the employer directly to apply by downloading the

Job Referral Form​​

 and using the information on the form.




After your interview, the department contact will let you know if you have been hired for the position. The employer's human resource representative will help you complete all necessary payroll forms before you begin working and will notify the SFA of your employment.



What do I need to do to keep my FWS offer?

Since Federal Work-Study is a federal financial aid program, you must meet all the eligibility criteria required for receipt of federal aid, including Satisfactory Academic Progress​​​​. In addition, you must maintain at least half-time enrollment to be eligible to work on FWS.
How do I get my money?
Once you are hired into a Federal Work-Study job and have completed all needed payroll paperwork, you will keep a record of the hours you have actually worked, and submit it to your employing department every week. You will receive your funds biweekly by direct deposit for the hours that you reported on your time sheet approximately two weeks later.

Note: Your Federal Work-Study offer is intended to help with your living expenses and other indirect educational costs. No money from your Federal Work-Study offer will be available to help you pay fees at the start of each term. Due to the eligiblity requirements necessary to use the offer, Work-Study funds should not be used as a sole source of income.

I have been working all semester in a work-study job. How much work-study funding do I have left?
Your employer pays you from the amount you are offered, which decreases over the course of the year as you earn paychecks. Check your Financial Aid Summary in My Buckeye Link.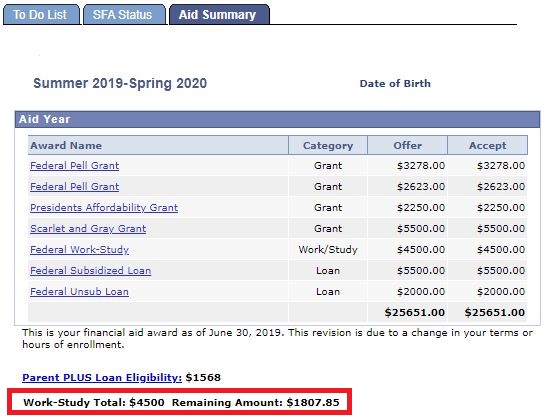 Can I work as many hours as I want?

No, the amount you earn can't exceed your total FWS offer. Additionally, Ohio State limits anyone working in a student-employee status to a total of 28 hours of work per week in university employment, 20 hours of which may be paid by FWS.

Can I have more than one work-study job?

Yes, provided you do not exceed working 20 hours a week combined between all employers. Typically your supervisor is to monitor your schedule to ensure you do not exceed eligible FWS hours, however in cases where you are working multiple jobs, you will have to monitor this yourself.
Are Federal Work-Study jobs on campus or off campus?
Both! If you work on campus, you will work for Ohio State. If you work off campus, you will still be employed by Ohio State, but your work site will be a private nonprofit organization or a public agency, and the work performed will be in the public interest.
How much can I make?
Current pay rates range from Ohio minimum wage to $14.17 per hour, depending on the skill required for the particular job. Regardless of the rate of pay, you cannot earn more than the amount you were offered for th​​e year, although theoretically you can earn the entire annual amount you have been offered all in one semester if you work enough hours. Bear in mind, the higher your rate of pay and the more frequently you work, the quicker you might earn all of your funds for the year.
I love my job, but I'm almost out of work-study funding. What can I do?
Federal Work-Study funding is extremely limited. While we cannot promise that we will have enough funding to honor every request to increase an offer that has otherwise been exhausted, we would like the opportunity to review your case. Only if you are within $500 of having exhausted your initial offer, contact sfa-jobs@osu.edu.
In cases where there is either no further funding available or you are not eligible to receive further need-based aid for the year, we would encourage you to discuss with your employer the possibility of being paid with departmental funding. This is entirely up to the employer. If it is an option, your employer will work with their human resources professional to make the necessary adjustment to your employment record.
What happens if I don't earn all (or any) of the work-study funding I was offered by the end of the year?
Work-study funds are offered per academic year, just like the rest of your federal financial aid.  The only way to receive work-study funds is by earning paychecks, and you have until the end of the academic year to do so.  Some students will exhaust their work-study offer before the academic year is over, while others will not work enough to exhaust their offer.  Any work-study funds that are remaining at the end of the year will not roll over to the next academic year (which starts in Summer Term), nor can they be "cashed out".  
Can I use FWS during the summer?
At Ohio State, FWS eligibility is tied to a student's current enrollment for that term, and summer is the start of our academic year.  A student can use FWS during the summer term provided that they are offered with FWS for the new academic year, and are fulfilling the same financial aid and enrollment eligibility criteria as they would during autumn or spring semesters.
Any combination of Summer Term, 8-Week, 6-Week, or 4-Week Sessions can be used to meet the 6 credit hour minimum enrollment requirement during summer.  Be advised that the workload for summer courses can be rather heavy due to the truncated nature of the courses.  Consider this as you decide if working in summer while taking 6 credit hours or more is a good choice for you.  A student can begin working in summer when all HR steps for hire/rehire have been completed.  It bears repeating, students that drop below half time at any point in the term immediately cease to be eligible to earn work-study funds. 
Sometimes taking classes in summer simply to have access to a work-study job is not a good option big-picture.  We would strongly suggest any student who relies on need-based aid to pay fees
discuss with a Buckeye Link counselor
whether attending in summer will impact any of the other offers in their financial aid package.  If you then determine attending classes in summer is not a good option for you from a financial aid standpoint, you may review the job opportunities for summer employment available to all students on our
general job board​
.
Please also be aware, using FWS during the summer means you could have three terms worth of time in which to earn your FWS offer instead of two.  This can result in a student exhausting their offer sooner than anticipated.  While we are always happy to review student accounts when they have reached a FWS balance of $500 or less, we cannot promise that we will be able to increase existing offers.  We also cannot consider increasing existing offers until financial aid packaging and appeals for students returning in autumn has been completed, which is usually mid-September. 
To work in summer 2020, students must be:
•
Packaged with financial aid for 2020-2021
•
Have been offered with and accepted 2021 FWS
•
Be enrolled any combo of sessions a total of 6 credit hours​