​If you have completed the required steps, your accepted financial aid will appear as "pending" on your Statement of Account about 4 to 6 weeks prior to the beginning of the term, or 2 to 4 days after you have registered for classes. ​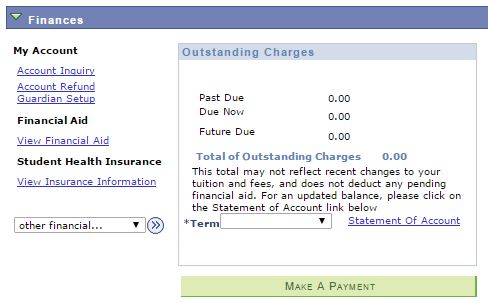 To view pending aid
Log in to your My Buckeye Link.

Click on Statement of Account in the Finances section. Make sure the correct term is selected.
Financial aid will appear as "pending" on your account until it is released or disbursed approximately 7 to 10 days prior to the start of the term, as long as you remain eligible. Once aid is disbursed, it will be displayed as a payment on your Statement of Account and the "pending" status will disappear.
Direct deposit and refunds
Once your financial aid has posted to your account and all charges have been paid, there may be money left over. You will receive this overage in the form of a "refund," which is to be used for college expenses.
Once a refund transaction has posted to your account and if you are enrolled in direct deposit you can expect your refund within 2-5 business days. Those not enrolled in direct deposit will receive a paper check. The university will begin mailing refund checks 2 days after the start of the semester and will be mailed to the current address listed in the Contact Information of My Buckeye Link. Paper refund checks may take up to 15 business days to receive.
​To sign up for direct deposit, click on the "Account Refund" link in the Finances section of My Buckeye Link and follow the instructions.